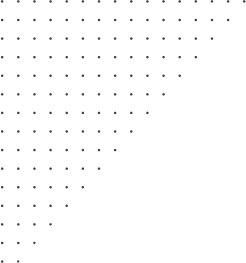 APPROACH
VERTICAL INTEGRATION
DRIVING VALUE FOR STAKEHOLDERS FROM THE GROUND UP.
Our approach to student and senior housing looks like none other. Valeo Groupe is structured on a vertically integrated platform that includes development, construction, community management, and asset management. This operating platform allows us to control asset quality, reduce cost, increase delivery speed, improve operating efficiency, and ultimately, drive value for stakeholders.
Vertical integration has made it possible for us to implement prototype construction, where repetition of product has resulted in smarter construction, consistent operational practices, and a hospitality brand model across the portfolio. Our construction strategy includes repetition and refinement of prototype, a captive general contractor and construction manager, and captive wholesale supply that results in significant cost savings, giving Valeo Groupe a strong market advantage.
It's strategic. It's predictable. And, most importantly, it's successful.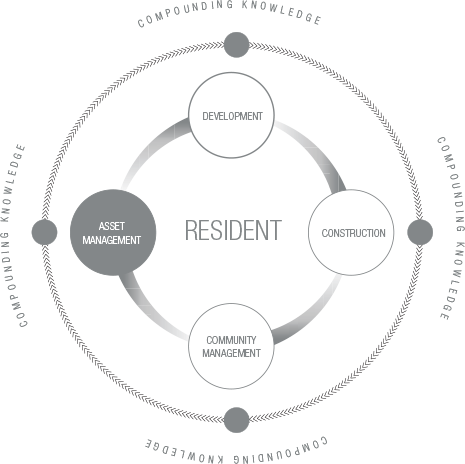 ASSET MANAGEMENT
Valeo Groupe's asset management team works closely at every level to offer the most cost-effective capital solutions. With extensive experience in both equity and debt capital markets and strong relationships with financial providers from all over the world, Valeo Groupe continually monitors the financial performance of every project in order to manage a sound investment.
Investment Underwriting
Valeo works closely with the in-house development group to underwrite each project to acceptable return levels. By developing a detailed financial model for each property and by reviewing all areas of underwriting presented, Valeo can avoid risk and return perspective. In addition, Valeo manages all underwriting processes with both equity and debt partners for each pool of properties being financed.
Managing the Capital Stack
Valeo works with a variety of equity and debt providers to source financing of each new construction cycle, as well as match up interim and permanent financing for existing assets. In today's markets, it's important to closely manage the weighted overall cost of capital and ensure efficiency.
Valeo has also developed long-term relationships with certain financial resources that understand our business and contribute to the continued development of the Valeo underwriting standard.
Monitor Asset Performance
Valeo Asset Management is the company's watchdog for asset performance. Each asset is individually tracked to budget and benchmarked against other properties, maximizing returns for the company and its investors. Valeo is able to use this data each cycle in order to develop optimal forecasting models for budgeting and new project underwriting.
Investor Relations
Valeo Asset Management is the conduit between debt and equity partners. In today's world, we believe that you cannot provide enough information. Valeo focuses on developing and managing a transparent reporting program, both internally and externally, that keeps all stakeholders up to speed on performance.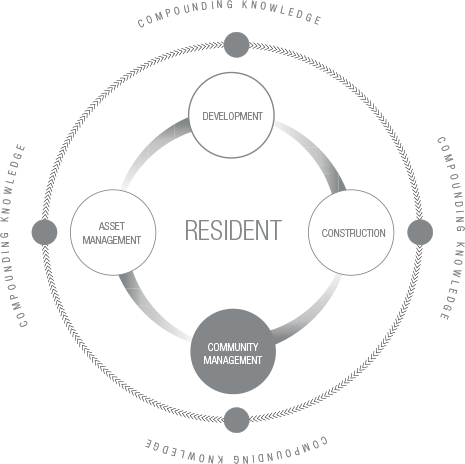 COMMUNITY MANAGEMENT
An unparalleled lifestyle experience starts and ends with community. That's why Valeo Groupe offers a thoughtful management structure and approach to marketing, sales, and operations for every style and portfolio, including proprietary resident life programs. With experienced managers and leaders, and a style unlike any other, Valeo Groupe offers the kind of communities that demand attention – and leases.
Management Structure
Valeo Groupe is uniquely structured with an approach solely focused on lifestyle. Management is comprised of a corporate team that sets big picture goals for all operations, sales and marketing for properties. Area sales and operations teams then execute the vision for that property, tailoring it specifically to a geographic area. After a solid structure and strategy is in place, Valeo Groupe's Community Management Group takes over.
Profitability
Increasing profitability is a key measure for performance. From corporate office, to property level, Valeo Groupe provides real-time data and specialized training to every manager in order to ensure a seamless operation that includes maximizing occupancy and lease revenue, controlling expenses and a streamlined system for rent collection.
Operations
The success of Valeo Groupe's vision for growing unique, thriving communities is due to an increasingly successful operations team. From the best customer service practices to the highest quality property maintenance, Valeo Groupe meets resident needs before they ever become one.
Resident Experience
Valeo Groupe's focus on lifestyle isn't just a philosophy. It's the very thing that sets us apart. With strategically developed - and completely unique - resident life programs and meaningful opportunities tailored to every area in each community, residents can find their passion, build friendships and spend their time doing what makes them happy.
Branding
It all starts with the brand. And each brand is born from Valeo Groupe's legacy of "purpose-built" innovation by offering residents the opportunity to connect with one another through thoughtful design, lifestyle programming and community-centric amenities. From college townhomes to senior apartments, Valeo Groupe offers a diverse portfolio of housing brands that have breathed new life into communities, made lasting impressions on the lives of residents and set a new industry standard for niche housing.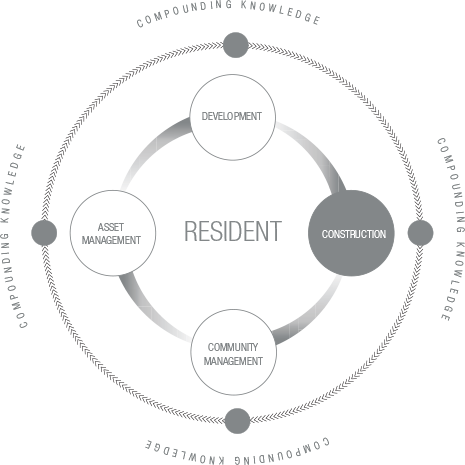 CONSTRUCTION
Valeo Groupe Construction has earned a reputation for efficiency in delivering high-quality projects at a competitive price. From purchasing and logistics to disciplinary design, Valeo Groupe's Construction's team offers fully-developed concepts and consistent results. Valeo Groupe Construction has the ability to successfully deliver proto-typical buildings at a significant cost advantage is based upon a discipline of:
Repetition and refinement of building prototype
Centralized wholesale supply
Captive construction management
Training and developing a loyal base of regional and national subcontractor teams
Counting the Cost
Valeo Groupe Construction has developed a reputation for delivering quality projects built with great time efficiency that is unmatched in the industry. This ability to successfully deliver prototypical buildings is based on dual disciplines of prototypical building design and developing a new approach to construction, including pre-assembled components and timely delivery of materials to the job site, which also results in greater onsite efficiency.
Product Purchasing and Logistics
When the sourcing and delivery of building products are controlled, so are the project costs and timing. Valeo Groupe's prototypical design approach ensures that all building finishes and products are the same from project-to-project, and, as a result, realizes tremendous buying power – which dramatically lowers cost and increases predictably of product delivery.
Built to Perform: Refined Construction Process
Every floor plan introduced to the construction field is the culmination of years of refinement, resulting in an extremely cost-effective design. This process also provides the construction and leasing teams an opportunity to improve decisions or enhance a unit for the eventual end-user before the next construction process begins. Once it commences, Valeo Groupe delivers a complete system of components to the job site; specifically, pre-manufactured floor and roof trusses, and pre-sized components that are shipped to the site directly from vendors and suppliers.
Regional Subcontractor Teams
Valeo Groupe works hard to create mutually beneficial regional subcontractor relationships. Consistent construction techniques, coupled with a pre-assembled building component package, helps drive costs down and increases the predictability of construction delivery dates. Because a specific trade is responsible for the assembly of certain packages in familiar prototypical buildings, that cost is also reduced.
Multiply this approach across other subcontractor disciplines and you have a fully developed, reliable regional subcontractor team with firm pricing and consistent results.
Asset Preservation
As the Valeo Groupe portfolio continues to grow, so does the importance of maintaining the quality of assets in order to preserve the consistency of the product. The facility management group ensures that the portfolio remains on strategy and uniform, maximizing Valeo Groupe's purchasing power to protect cost efficiencies as well as brand.
First Impression and Product Development
Because curb appeal and the first impression of a community is critical, the environmental services group implements and manages seasonal landscaping programs, as well as regularly scheduled maintenance on the exterior, common and amenity areas. The maintenance group is also responsible for any short-term special task forces to ensure that Valeo Groupe assets look new and fresh to the customer at all times.
As the environmental services group manages and maintains the physical components of the properties, they are also responsible for alerting the construction team of any alternative products or components that may improve the customer experience or reduce operational cost. This centralized approach allows Valeo Groupe to observe and react to any anomaly that is observed across the portfolio, redesign during the product development phase and improve existing assets for future pipeline projects.
Cost Containment
By utilizing the in-house resources for construction and environmental services groups, Valeo Groupe is able to take advantage of various bulk purchasing agreements, which drives cost down in the field. Ongoing relationships with various vendors who supply many of the FF&E items also provide cost savings that go a long way. Implementing necessary metrics in order to monitor and control physical plant operating costs is a major responsibility of the facility management group. Any kilowatt of energy or gallon of water saved not only increases portfolio value, but also backs Valeo Groupe's commitment to creating increasingly sustainable communities. Additionally, the ability to operate more efficiently allows Valeo Groupe to deliver the highest quality service at prices that are competitive with older, obsolete or inefficient competitors.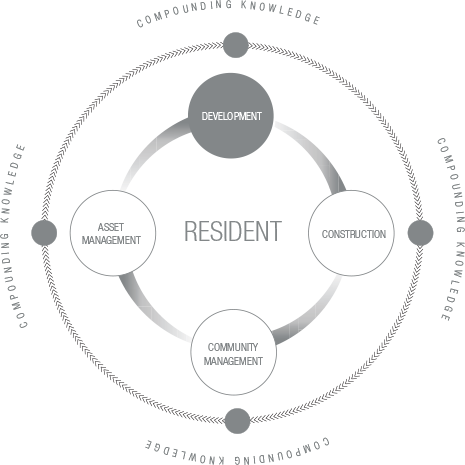 DEVELOPMENT
Valeo Groupe Development researches potential target markets, locating and securing new sites, assisting in project underwriting and financing, and delivering sites with all necessary entitlements / approvals to the construction group. From thorough site selection to construction, Valeo Groupe Development covers every aspect of this phase and closely monitors project progress, assisting with any issues that may fall outside the responsibility of the construction group.
Entitlements
After a project charter has been created and the site is placed under contract, the development group manages a third party team of civil engineers and consultants to develop a site plan that aligns the specific attributes of the site with the requirements of Valeo Groupe's prototypical development plan. During this phase, it is the responsibility of the development group, the core team of RDMDs and local consultants to deliver a fully entitled and approved project to Valeo Groupe.
Investment Underwriting
Each Valeo Groupe group reviews its specific area of focus. Once this information is collected and summarized, a detailed package for each prospective site is prepared and reviewed to develop a comprehensive project budget. A project charter is then developed for each approved site and a package submitted to the Valeo Groupe Investment Committee for approval. Once the site is approved by the investment committee, it is physically reviewed on several project underwriting tours by the Valeo Groupe Investment Committee, its investors and lenders for final approval.
Site Selection
Site selection activities are managed by the development group in conjunction with a team of regional development partners (RDPs). Valeo Groupe provides the RDP with a list of potential markets based on the research described above, and the RDPs identify and contract for potential sites in each market. Each location must comply with a site criteria checklist and pass certain "go/ no go" filters. To further align each region with the overall goals of the company, the RDPs are compensated on a per-project basis, which is tied to specific corporate milestones. Each RDP is then charged with managing and facilitating the acquisition and entitlement requirements of each approved site location.
Foundation
Before development begins, the development team, in conjunction with the Valeo Groupe Investment Committee, identifies markets that meet the company's objectives. The development group then continually builds a database of information and prioritizes that data through a combination of in-depth market and field research, all while utilizing a proprietary underwriting model.